review
Makita v's DeWalt Which is the best cordless combi drill?
With the new products hitting shelves this year we want to know, which one is better?
---
With the new products hitting shelves this year we want to know, which one is better?
Introduction
Tool reviews is something we have traditionally kept away from on the Powered Now blog, after all its fairly subjective and can cause a few interesting debates. It even happens at Powered Now, I am a huge Makita fan, where Zoltan (the Powered Now CTO) is a massive DeWalt fanboy!
While the debate about which brand / range of products will rage forever, and it's something we won't resolve here, what we can do is take a look at the two leading cordless hammer drills to see which one is better.
The cordless drill, we would argue is the most important tool in any trade. It's such a useful thing to own and with the hundreds of attachments can be used in so many different ways.
This extends to hammer drills, in fact as someone thats kept hold of an old corded drill it always surprises me when you realise how much power these battery powered tools have, especially as they are so compact. If you are reading this and are yet to go cordless, you'll never go back!
For this review we are shopping at ITS.co.uk with a budget of £130 to £180. There are plenty of combi drills under this budget, as well as a fair amount above. However we feel is a good price to spend on a tool that is going to last for a good few years.
We chose the following two products from ITS:
Makita DHP485RTJX 18V LXT Brushless Combi Drill with 1 x 5Ah Battery, Charger and Case, at the time of writing this post you can buy this from ITS for £149.99

Dewalt DCD796P1 18V XR Brushless 2nd Gen Combi Drill with 1 x 5Ah Battery, Charger and Case, this is available for £169.99
Please note we are not affiliated with ITS, we just think they are one of the best places to go to buy tools from.
Have you tried Powered Now?

Makita
DHP485RTJX

Review

It's probably fair to say that Makita has a reputation for being slightly better quality compared to many other brands. However there is a catch with that quality, a higher price tag. So we were very surprised to see the price of this combi drill actually coming in under the DeWalt.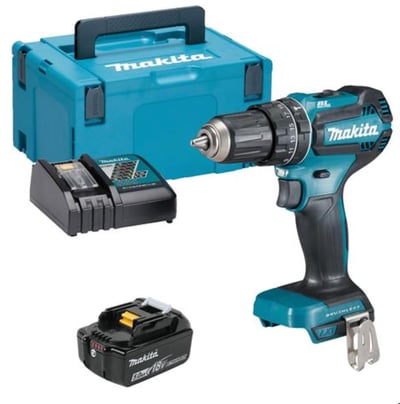 Both of these brands make a lot of cordless combi drills, but this one from Makita seems to fall square in the middle of the affordability / power equation.
Makita Battery Life and Performance
It took Makita a long time to come up with their 5Ah battery and we think it was worth the wait. On first glance you will forgiven if you thought it was the same as the previous 3Ah and 4Ah batteries, this is because the new one is almost identical in weight and size. The big difference is of course the charge it holds.
In a real world test, albeit with a newer battery, the new 5Ah battery on this drill lasted twice as long as my previous 3Ah drill. In fact, it was so good the battery indicator on the back of the battery had only just dropped to two bars (from four) in the time I had to recharge my old drill.
Recharge time borders on the unbelievable. In our tests the battery went from dead to full in a little under an hour, we didn't get an accurate reading but would estimate its about 50 minutes.
Using the Makita drill
The Makita DHP485 is, like most new combi drills compact, it actually feels a little too compact when you consider the abuse these tools get on site. Its also very lightweight, with the battery pack disconnected its a little spooky how light it is! This is a good thing, especially if you spend a lot of your time working with the drill above your head!
As all Makita cordless products it features a 2-speed gearbox for both low and high speed jobs, we think this is a bit of a shame as there is a good argument for a middle ground. Low speed clicked out on some jobs a little too easily while high could end up rounding off bits a bit too quickly.
The drill itself has 50Nm of torque which is on the low end for a drill this size, especially compared to the DeWealt's monstrous 70Nm.
As usual the Makita drill has a really super bright LED light, the one on this drill however is incredible. I know we have all used our drills in place of a torch, this one is vying to replace the sun it's so good!
The one thing Makita, in my experience at least, is renowned for is the electric break. This one is just as good as every other combi drill from them. It stops, instantly. The chuck however jammed a little after some heavy use, we are not sure if it was simply over use, over heating or something else, once some elbow grease was applied it was fine, bit it was a bit of a concern.
We found the new Makita XPH14 on sale at ITS with a charger, batter and excellent stacking case for £149.99.
DeWalt DCD796P1 Review
As mentioned in the beginning of this review I am a Makita fan. I think it's because they were the first cordless products I really invested any money into . Once you are in the ecosystem with batteries and chargers it's a very simple decision to stay in it. However I was really keen to try out the DeWalt, especially as I have been using an old corded DeWalt hammer drill for years (which I still love).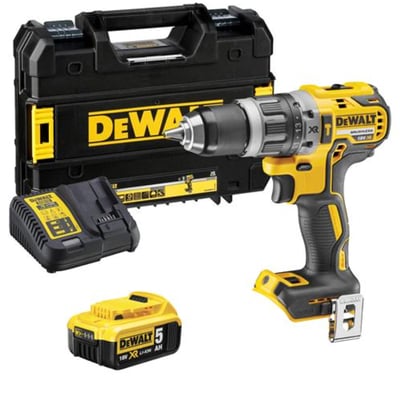 The DeWalt is surprisingly a little more expensive than the Makita however on first blink I am not sure its as well built. The Makita feels a little better put together but its really small things.
DeWalt Battery Life and Performance
The DeWalt 18V battery that came with the drill is the same battery you will find on the whole XR range of products. The 5.0Ah battery is a little bigger than I was expecting, I think its because more of the battery is hidden in the drill.
Charge times from dead to full was a little under 1.5hours, but it lasted all day of heavy usage and only dropped down to half use. As this is a real world review this won't be that accurate but the battery is excellent.
Using the DeWalt Drill
Starting off with the weight and size, it's nice and compact and lightweight, these new generation combi drills have been on a diet and lost a few pounds. I had no problem using it for the day especially with hard to reach jobs.
Like the Makita the DeWalt has a two speed gearbox which initially I thought was a shame for the same reasons as the Makita, cheaper brands have more control than this. However after using it for the day I actually think this works a little better on the DeWalt with a higher range of power on both the lower and higher gears.
This leads on to the major difference between the two drills, the DeWalt has a huge 70Nm of torque, its very powerful but we did note the price for this was a significant battery drain at high speed, it also got a bit hot. However we think this is a big advantage as it makes the combi drill a bit more useful, the hammer drill will just stay in the van for longer!
The build quality, while excellent, isn't as good as the Makita. Now this may not bother you, especially if you tend to be someone that abuses their tools. However a good example of this is the battery and drill connection. The Makita makes a reassuring click and once connected it feels as if they are glued together. The DeWalt is less convincing, while it connects ok the battery pack moved around a little.
The LED on this drill is something I didn't expect and it tries to be a bit too smart for its own good, you can change the LED brightness from normal to full on search light. Personally its overkill and feels a bit of a gimmick, although some people will like it.
We found the DeWalt DCD796P1 at ITS for £169.99 with a battery, charger and case.
Conclusion
Reviewing the pair of these combi drills has been an interesting experience and in reality there is nothing to really separate the pair of them. Both DeWalt and Makita have a 3-year warranty on both the drill and battery pack.
Which one of the two products you choose really depends on what you need from a product like this, I think there are two major cases.
Buy the Makita if, you like tools with really great build quality. Plus the Makita has an great battery life and a really fast recharge
Buy the DeWalt if you need a bit more power from a combi cordless drill.