Field Service Management Features
Powered Now's Job Management Software
More Profit, Less Effort - Go Digital
Powered Now is the all in one business app specialising in hassle-free and stress-free day-to-day operations.

We have made an easy and intuitive system for employee and customer satisfaction. It's practical, too - everything is in one neat platform, so you don't have to download multiple software or platforms.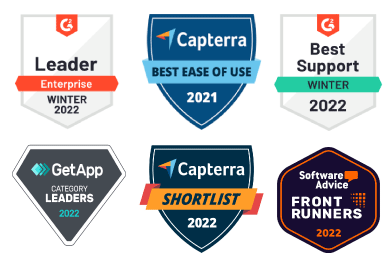 Watch the full product demo
POWERFUL FEATURES
Perfect if you have a team, or work on your own
Powered Now has been designed to help small business owners get their lives back from the headaches of managing their companies. It doesn't matter if you are a company of 1 or 100, Powered Now has you covered. Get your trades business under control.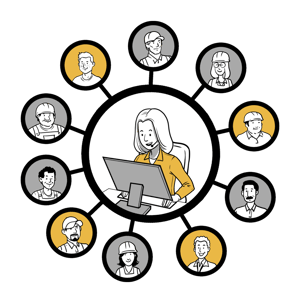 All in one invoice app
View major features
Powered Now is the perfect all in one business app. Thousands of users have used and requested specific features over the years, and we have listened! Discover how Powered Now's job costing software can help you with everything you may need.
Paperwork

Diary & Scheduling

Team Features

Customer Relationship Management System

Reporting & VAT Management

More
Create great looking paperwork in minutes
Add your logo and use one of our 20+ ready-to-go templates. An easy-to-use invoicing app for quick, professional invoices, quotes and worksheet creation. Our job costing software makes it simple to send them to your clients via email and text and then track when it's been opened.

Our forms and certificates are also incredibly powerful and include Gas Safety, Electrical, Construction, Renewable & Green and many more. We have the most comprehensive and up-to-date certificates.

You can also use Powered Now to keep on top of your vehicle management paperwork.
Powerful Diary Scheduling
At the core of Powered Now's invoice app is an intelligent diary and scheduling system that links to both your customer records, your team and all of the paperwork. Everything is in one place, so you can focus on the hard work without the stress of difficult systems.
Sometimes all you want to know is, "where is my next job"?
With Powered Now you can switch your start screen between the dashboard, your jobs or your teams jobs. This is really useful for your Engineers if you want to keep them focused on the job at hand.
Manage your workforce effectively
Powered Now's team tracking software is a location tracker that allows you to know where your team are now and where they should be going throughout the working day. Our GPS tracker app is built within the Powered Now software, so it is easily accessible from any device.

View your team and appointments on our map and use the chat function to communicate with your team. The HR system is also a secure place to store your important documents and track employee leave.
Keep your customers organised and satisfied
Our customer relationship management system allows you to manage projects by status, so companies with specific workflows will find it easy. With support for both commercial and domestic landlords and sites, Powered Now's customer management features are simple to use and have powerful results.

Your customers can directly book appointments using our portal and communication with you and your team to keep messages and emails in one neat place.
Keep on top of your numbers and reports
Powered Now makes it easy to keep your customer records and notes. Powered Now has comprehensive reporting and vat management options which make it easy to see trends in your business. If you don't manage your own accounts, all information is easily available, so you can pass the information to your accountant or bookkeeper too.

Everything can be quickly exported, or if you are a XERO user, it can be synced to your accountancy package. If you are a VAT-registered business, you can also quickly connect to the HMRC portal and submit your own VAT return. It's easy, your go-to finance and invoicing app.
Everything in one place
Powered Now has a lot of additional functionality as it's built for small trade companies and the truth is, no two are alike.
For a free demo and set up please book a session and learn how Powered Now can be used in your business.
Improve cash flow
Powered Now's web, iOS and Android apps are designed to easily track your jobs from quote to invoice and everything in between. You can create invoices, forms and certificates and more in just a few seconds. You can also get paid faster with Powered Now's Sumup integration accept card payments directly from a link in your invoice or take contactless payments with the optional card reader.
You can also use our notifications to notify your customers that their tradesman is on the way in one single click - you can even send their profile so they know who is going to attend in advance!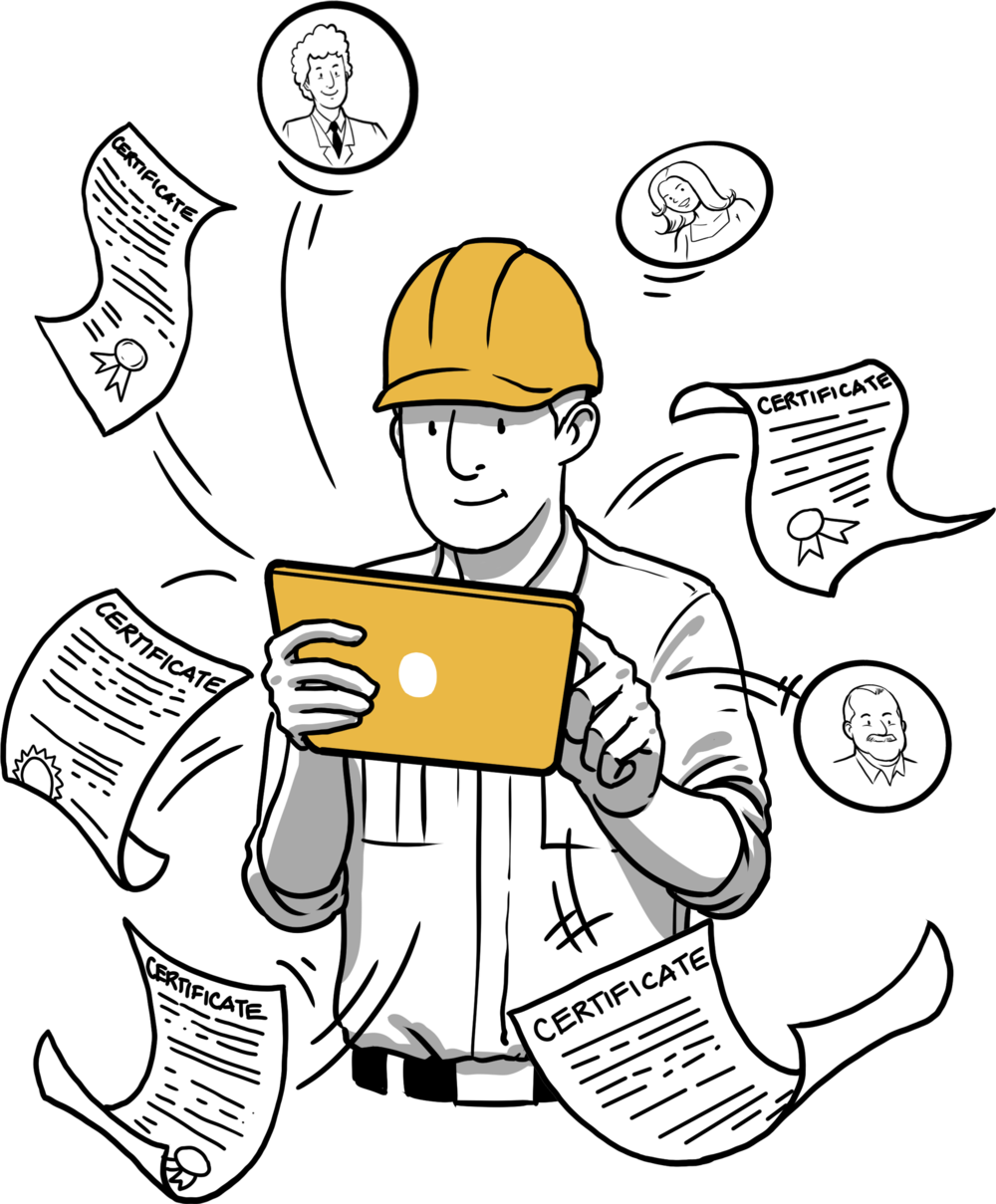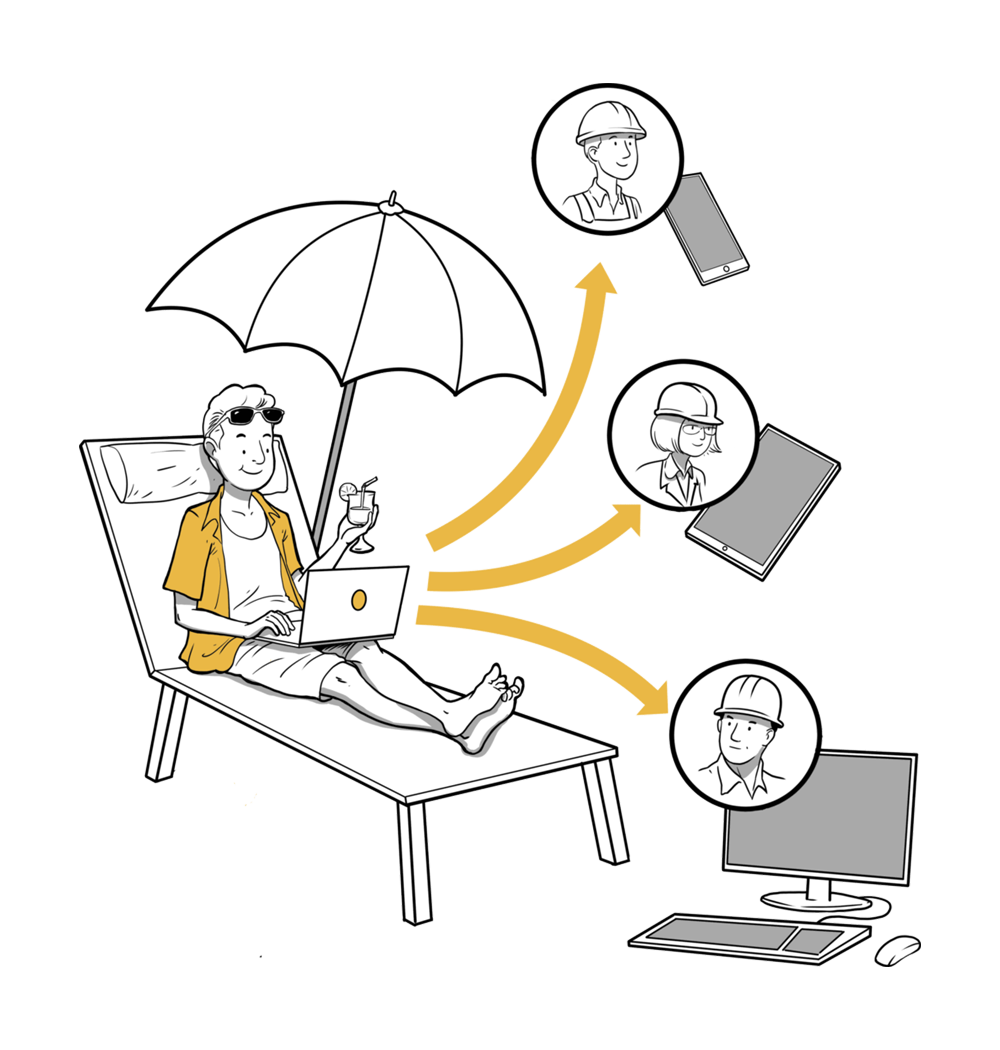 Manage your team on the go
Powered Now's in-built HR System offers a range of features that will help you manage your workforce more effectively
Drag and drop scheduling

Time entries, holidays and sickness tracking

GPS tracking

Instant job notifications
Employee data management
Appointments can be created with default lengths and colours and can be booked for all day, half days or specific time periods
Lunch hours are automatically deducted from the time recorded on timesheets
Staff Holidays that are shown in the diary to avoid misunderstanding
Save time and win more jobs
Our Smart Scheduling and Powerful Diary are designed to work the way you work.
It improves communications between employees and saves time.
Use our Maps integration to enable navigation straight to your next appointment in one click. Powered Now's reminders are super useful, you can set them to track when your MOTs and services are due so you can contact your customers in advance and win more jobs!
That's not all, our new Customer Portal allows your customers to book appointments directly into your diary.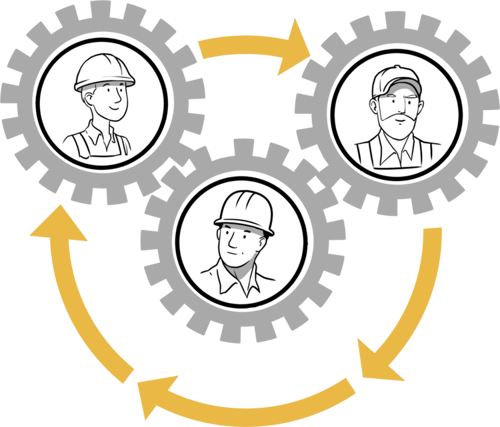 Go Premium With Our New Release
More Compliance, More Control, More Customisation and More Credibility


Online Appointment Booking


Communications In One Place


Dedicated Telephone Support
More Profit, Less Effort - Go Digital with Powered Now!
Who uses Powered Now?
Powered Now is used by companies big and small. It's the perfect solution for trade companies that are looking to streamline their operations and make paperwork and job scheduling headaches a thing of the past.
We have thousands of Electricians, Gas Engineers, Builders, Landscape Gardeners and many more running their business on Powered Now daily.
Can I add my team to Powered Now?
Absolutely, Powered Now works best when you add your team. It means you can use some of the features that make Powered Now so useful, this includes:
Advanced Scheduling, add your team mates to jobs in the diary and keep everyone up to date.
Team Tracking, see all of your jobs and team members on a map, perfect for routing and emergency jobs.
Team Chat, forget WhatsApp and SMS, you can keep in touch with your team easily.
Can I tell if a customer has opened a Quote or Invoice?
Powered Now has document tracking inbuilt, this means you will get an alert when your customers open your quotes or invoices.
Quotes can be accepted or rejected by your customer online, this means that you get a chance to discuss any rejected quotes quickly. For work you have won, you can add it to the diary in one click.
Invoices can also be paid instantly with our Sumup Chip and Pin integration.
What forms and certificates does Powered Now have?
Powered Now has lots of forms and certificates including:
Plumbing
Commissioning of Water Pipework
Domestic Unvented Hot Water Storage Vessel Commissioning/Inspection Record
Central Heating Powerflush Certificate


Gas
Installation/Commissioning/Decommissioning Record
Domestic Gas Safety Record
Landlord's Gas Safety Record
Landlord's Gas Safety Record for the Leisure Industry
Non-Domestic Gas Installation Safety Report
Electrical Bonding Notice
Plant Commissioning/Service Record
Commercial Catering Inspection Record
Gas Warning Notice
Central Heating Commissioning Certificate
Gas Testing & Purging Certificate
Gas Breakdown/Service Record
Gas Service/Maintenance Checklist


Electrical
Portable Appliance Testing Report
Emergency Lighting Service Certificate
Electrical Danger Notice
Emergency Lighting Completion Certificate

Domestic Visual Condition Report

Emergency Lighting Existing Site Compliance Certificate




Oil
CD/14 Oil Warning and Advice Notice
CD/11 Firing, servicing and commissioning
CD/10 Oil fired installation completion report
TI/133D Domestic Oil Risk Assessment


Fire Safety
Certificate of Design, Installation and Commissioning for Fire Detection and Fire Alarm Systems Grade C, D or F
Design Certificate for Grade A Fire Detection and Fire Alarm Systems
Installation Certificate for Grade A Fire Detection and Fire Alarm Systems
Modification Certificate for Grade A Fire Detection and Fire Alarm Systems
Acceptance Certificate for Grade A Fire Detection and Fire Alarm Systems
Certificate of Commissioning for Grade A Fire Detection and Fire Alarm Systems
Non-Domestic Verification Certificate for Fire Detection and Fire Alarm Systems
Non-Domestic Commissioning Certificate for Fire Detection and Fire Alarm Systems
Non-Domestic Installation Certificate for Fire Detection and Fire Alarm Systems
Non-Domestic Modification Certificate for Fire Detection and Fire Alarm Systems
Non-Domestic Acceptance Certificate for Fire Detection and Fire Alarm Systems


Risk Assessments
2020 Biohazard Risk Assessment Form
Risk Assessment and Method Statement (RAMS)
Insurance Inspection Report
Pest Control
Hazardous Waste
Customisable Forms
Measurement Form
Site Vist Form
Extended Site Visit Form

Job Completion Form (5 customisable versions)
Does Powered Now integrate to Xero / HMRC / VAT?
Yes! Powered Now has a deep integration to Xero, this means you can manage your business using a dedicated field management app while your accountant can look after your books.
HMRC integration means if you are VAT registered you don't actually need to use a complicated accountancy product. Our Making Tax Digital integration means you can automatically submit your VAT return in minutes.
Can you help me move to Powered Now, I don't have time?
Our goal, when you buy a subscription to Powered Now, is to make it as easy for you as possible to get up and running. We offer a free setup and training session with a product expert as well as ongoing support.
We can also help import your existing data, please contact us for more information.
What's Powered Now Smart Scheduling?
Powered Now Smart Scheduling is a powerful diary tailored to how you work. Some of the benefits are:
Improves communications between employees and saves time. Easier management for senior staff
Appointments can be created with default lengths and colours
Appointments can be booked for all day, half days or specific time periods
Lunch hours are automatically deducted from the time recorded on timesheets
Staff holidays are shown in the diary
What are Powered Now's Enhanced Notifications?
With Powered Now Enhanced Notifications, your business has complete control over what notifications are sent, when they are delivered and by which medium. The specific messages you send can be modified to your requirements. The recipients of your notifications and messages can be controlled by you. You can notify your clients that their tradesman is on the way in one single click and send your profile in advance so they know who is going to attend.
What's Powered Now HR System?
Powered Now has a new in-built HR System which supports trade businesses in all the major activities needed to manage their workforce in a few simple steps.
Store important documents safely in the cloud

Employees' leave and absence tracking

Notifications

and more!
What's Powered Now Maps Integration?
Powered Now's Maps integration automated link to standard iPhone or Android maps app or Waze will help you and your staff with just one click get to your appointments in time.
You chose a navigation app that can be opened on a smartphone to enable navigation straight to the next appointment. It is super easy to use.
Find your way to clients' properties with our new map integration, click directly from your appointment through to Navigation systems such as Google Maps, Apple Maps and Waze.
How does Powered Now Customer Portal work?
Powered Now's Customer Portal lets you have all your communications in one place.
Any customer that regularly gets work done by you can go online any time and book work with you. This would apply to a larger residential customer that you do a lot for and particularly for business customers where you may have a stream of work or even a maintenance contract. They can also access all the documentation that you sent to them previously (invoices, certificates and more!).
Supported by the following companies: