No more filing cabinets for Isle of Wight's busiest pest controller!
"If we can understand it, anyone can!"

Background
Since 2009 David and Linda French have been running 5 Star Pest Control on the Isle of Wight.
An experienced pest controller, biologist and general manager, David had worked for companies in both London and on the island before deciding to set up 5 Star Pest Control on his own, with Lin running the back office.
Taking up the story Lin says: "David is the highest qualified pest controller on the island, and possibly along the south coast. But I knew nothing. I couldn't type and could barely get around a computer screen.
"I'd worked in retail as a sales assistant for 40 years, so I knew how to talk to people, but I had no computer skills."
Not to be defeated, and with a business to run, Lin invested in some basic training in Word and Excel, so she could keep track of jobs and customer details, as well as create invoices and job reports.
Challenge
"From 2009 up until 2018 we ran our business completely manually," says Lin.
"David designed the job reporting template and then for years we paid for this to be pre-printed so he could fill it in by hand on site after each piece of work.
"It was a manual form that included all the treatment guidance notes, health and safety information, risk assessment and everything necessary for Environmental Health and the various audits we, or our customers may need.
"There was a copy for us and a copy for the customer – and all this paperwork would have to be kept for up to seven years," says Lin. "We had filing cabinets and paperwork everywhere! In the office, the loft, the bedroom…it was all over the place!"
To keep track of job information and customer details, Lin had been populating and maintaining an Excel spreadsheet; meanwhile invoices were created in Word and invoice numbers manually generated.
"The spreadsheet went to dozens of columns that I needed to scroll through, and thousands of rows," explains Lin. "It was a bit tricky to manage. And occasionally the invoice numbers got out of sync too!"
Requirement
From about 2016 Lin started to investigate alternatives to this manual-based system.
"I started worrying about the limitations in Excel and knew that I needed to think about getting a better system in place.
"I was looking for an all-encompassing database that I could use for customer information, job reports and invoices.
"Disappointingly all the systems I found were from big companies usually based in the States and were very expensive to buy in to."
Why Powered Now?
"Everything happens for a reason, doesn't it?" says Lin.
"My computer had crashed and while the chap was round to mend it I asked him if he built databases.
"He didn't but he knew of PoweredNow.
"I got in touch and since they are also based on the Isle of Wight one of their reps came round to our house to talk to us. He gave us a demo of the system and then left it with me for a month to see how I got on with it."
Up and running in 2 weeks
"Powered Now is set out so easily that I didn't need the full month to convert my old system onto it," says Lin.
"The inputs are very simple, and it makes total sense. Each step is so straightforward and errors are flagged. It was very smooth to get the whole thing set up," says Lin.
"If I can pick it up anyone can!"
Affordability
"The American systems I was looking at were charging £6 or £7k just to start. But with Powered Now the annual subscription is under £500 with around £30 per month per user in the field.
"There's really no comparison on price at all."
Results
Less paperwork = fewer filing cabinets
To Lin's delight 5 Star Pest Control no longer needs filing cabinets all through their house.
"We've definitely made a saving in the amount of printing we do!
"Around 70% of our business is commercial contracts who all took up the offer of having forms emailed to them. This meant massively less paperwork for me to do – and easier auditing too," adds Lin.
Greater flexibility
"With everything in one place and accessible from my laptop it doesn't matter where I work from.
"I can go and visit my family and still have everything I need to hand without having to sift through lots of paper," says Lin.
Commenting on the flexibility of the platform itself Lin says: "Powered Now helped us tailor the system to cater for David's biological inspections too.
"So now he would be able to record a variety of aspects of a job straight onto his tablet on site without having to take lots of different paper forms with him."
Better customer service
"We've always prided ourselves on excellent customer service and aftercare and Powered Now really helps in that too," Lin comments.
"If our customers misplace their reports or their certificates, we can get them replacement copies with the push of a button. Having everything in one place helps us be more responsive to customer requests and queries."
Increased efficiency
"As we got busier and busier it would take me all day to process information on Excel and create invoices. Now much of the information is filled in on site and David has started to invoice on site too!! So that makes things a lot more efficient," says Lin.
"My accountant tells me that my books and VAT returns are always the first to arrive with them every quarter too. These all come straight out of Powered Now and save the accountant having to sort through the whole spreadsheet."
New Possibilities
Since 2009 David and Lin haven't taken much more than a weekend off for a holiday. But now with a very successful business running smoothly on Powered Now they have reached the point of considering a well-deserved break.
"David's employee Adam and his wife Corynn are interested taking a greater role in the business," explains Lin. "They are a young family and it's wonderful to know that they will take to the admin side very easily on Powered Now."
Recommendation
"We were the first pest control business on Powered Now's books, but we won't be the last!
"Powered Now's after sales service and support is phenomenal. Even if you're a one-man-band on the road all day you can always get help if something goes wrong.
"I really cannot fault the system or the support that Ben and his team deliver.
Powered Now says
"Replacing something that currently works such as an old system or even a paper form is always a tricky transition. Sometimes you need to have your hand held and things explained carefully, especially if you have multiple people that are in and out of the office.
"Powered Now offers extensive training, set up and support. We pride ourselves on our after sales care.
"It's fantastic to hear that Lin, David and the team at 5 Star Pest Control have seamlessly made the step to Powered Now.
"Finally, although Powered Now allows you to run your business on your mobile phone while on holiday, we suggest that Lin and David take that well-deserved break!"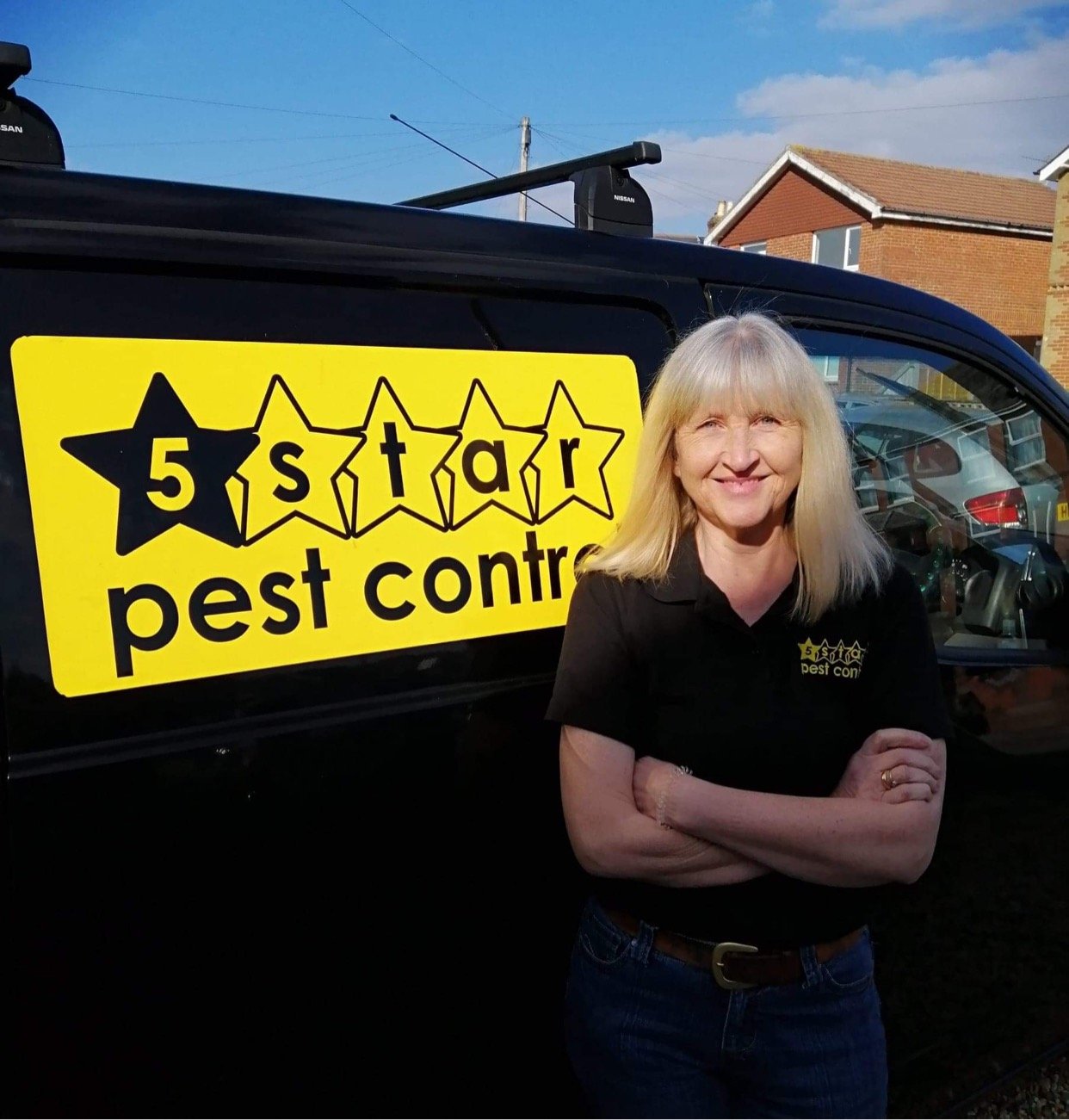 Fully qualified and insured pest control business based on the Isle of Wight.
​