Forms and certificates in one place
Create, sign and send unlimited digital certificates to your customers straight away with the Powered Now app.
At Powered Now, we're committed to making all of your paperwork as easy as possible to create and handle. No more messy paperwork!
Our forms and certificates are also incredibly powerful and include Gas Safety, Electrical, Construction and many more.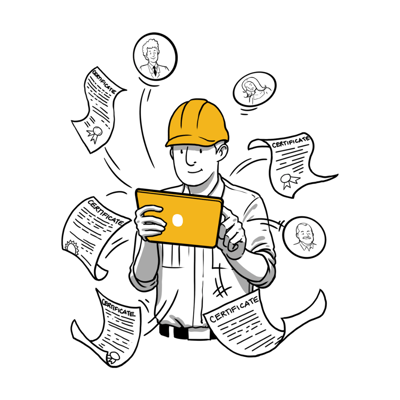 Create and manage online forms and certificates
Gas certificates
Installation/Commissioning/Decommissioning Record
Gas Safety Record
Landlord's Gas Safety Record for the Leisure Industry
Non-Domestic Gas Installation Safety Report
Electrical Bonding Notice
Plant Commissioning/Service Record
Commercial Catering Inspection Record
Gas Warning Notice
Central Heating Commissioning Certificate
Gas Testing & Purging Certificate
Gas Breakdown/Service Record
Gas Service/Maintenance Checklist
Plumbing certificates
Commissioning of Water Pipework
Domestic Unvented Hot Water Storage Vessel Commissioning/Inspection Record
Central Heating Powerflush Certificate
Fire Safety
C/D/F Design, Installation, and Commissioning Certificate
Design Certificate for Grade A systems
Installation Certificate for Grade A systems
Modification Certificate for Grade A systems
Acceptance Certificate for Grade A systems
Customisable Forms
Measurement Form
Site Vist Form
Extended Site Visit Form
More industry-standard certificates will be added in soon!
Electrical certificates
Portable Appliance Testing Report
Electrical Danger Notice
Emergency Lighting Completion Certificate
Risk Assessment
2020 Biohazard Risk Assessment Form
RAMS
Insurance Inspection Report
Oil certificates
CD/14 Oil Warning and Advice Notice
CD/11 Firing, servicing and commissioning
CD/10 Oil fired installation completion report
TI/133D Domestic Oil Risk Assessment
Legionella
Legionnaries Risk Assessment
Pest Control
Hazardous Waste
What is a Gas Safety Certificate (CP12)?
A gas certificate is a legal requirement for landlords and tenants to ensure that the gas appliances in their properties are safe to use. It can be obtained from an engineer registered with Gas Safe Register. The certificate expires one year after it was issued.
Generally, landlords must obtain a Gas Safety Certificate for rental properties. It is also a legal requirement for landlords to carry out an annual inspection of their properties. Landlords and letting agents have to obtain a Gas Safety Certificate for rental properties. Private homeowners are not required to have a Gas Safety Certificate, but it is a good idea to have one for your property, if you have tenants.
A gas certificate is required for all gas installations connected to the gas network. It proves that the installation has passed all the required tests and meets the requirements of the law. It is also necessary to obtain one if you are planning to buy a property. Gas fitters will usually install a gas plate near the meter so that you can easily identify the gas source. The gas plate will be stamped with the gas fitter's license number, the date of installation and the reference number of the certificate.
A Gas Safety Certificate CP12 certificate is issued to prove that a landlord has met their legal obligation to have safety checks carried out on all of the gas equipment in their rented property, registered Gas Safe Engineers can do this directly from Powered Now gas certificate app.
In this article, we explain everything you need to know gas safety certificates (CP12).
What's the difference between CP12 and Landlord Gas Safety Certificates?
There is no difference between a CP12 and a Landlord Gas Safety Certificate. CP12 certificates cover all gas related equipment in a property, including the gas appliances, pipework, and fittings that convey gas and exhaust equipment. Landlords must arrange annual gas safety inspections and pay for the certificates and any repairs required. Landlords must provide a copy of the CP12 certificate to their tenants within 28 days of inspection. These certificates must be kept for two years, and should be made available to tenants at least once a year.
Gas appliances that are not maintained properly can pose a danger to the lives of tenants and property owners. Gas leaks can lead to explosions or suffocation. Gas safety checks must be performed by a registered engineer every year. Landlords should provide a copy of a CP12 certificate to tenants at least once every five years, or every time new tenants move in.
While a landlord must ensure that their tenants follow the rules of the Gas Safety Certificate, a landlord can refuse access to tenants who self-isolate. CP12 paperwork must be made available to tenants within 28 days of moving in. During the safety check, Gas Safe engineers can identify problems and recommend appropriate repairs. Landlords must ensure that all gas appliances are turned off at all times.
What's the difference between CP4 and CP12?
CP4 is a Gas Safety Visual Inspection form and CP12s a standard annual Gas Safety Check.
Cp12, is a report which outlines the appliances tested in an annual gas safety check and CP4 is a form used to carrying out general gas safety inspections on a number of appliances.
What is a Domestic Electrical Installation Certificate (DEIC) Certificate?
The Domestic Electrical Installation Certificate (DEIC) is a form that is issued to a homeowner or landlord to confirm that any new electrical installation work is in accordance with the UK regulations. It is important to note that the electrical work is inspected by a qualified electrician and tested in accordance with BS7671.
In this article, you will find everything you need to know about The Domestic Electrical Installation Certificate (DEIC).
Do your certificates have automated reminders?
Currently on our Gas Safety Record (CP12), Gas Breakdown/Service Record, Leisure Industry Landlord's Gas Safety Certificate (CP2) and Electrical Installation Condition Report have automated reminders but all forms should have reminders by the end of this year.
How many certificates can I make?
Unlimited! That's right, with Powered Now you can make an unlimited amount of forms and certificates without any extra charge.
Can I create forms & certificates with Powered Now?
Absolutely! You can create and customise your certificates easily.
Powered Now Forms and Certificates allows trade companies to produce critical documentation quickly and easily.
How much does digital certificate software cost?
Powered Now digital certificate software pricing depends on the plan you choose. Check out our pricing page to find out mo
One tool, everything in one place
"It's so brilliant to be able to present customers with digital forms and certificates straight away. This has been particularly useful when carrying out gas checks on properties with absent landlords or doing gas safety surveys on properties on behalf of estate agents and solicitors. Within minutes of me finishing the check the landlord or solicitor can have a safety certificate in their hands. As a result they're more likely to pay the bill – and give me repeat business."
"If our customers misplace their reports or their certificates, we can get them replacement copies with the push of a button. Having everything in one place helps us be more responsive to customer requests and queries."
"Easy to use and has changed my whole thinking of running my business and with certificates as well it's just an all round brilliant app."