Digital landlord gas safety certificate app
Electrical Bonding Notice Template
Create, sign and send unlimited digital Electrical Bonding Notice Template to your customers straight away with the Powered Now app. Available on any device (phone, table and desktop).
At Powered Now, we're committed to making all of your paperwork as easy as possible to create and handle. No more messy paperwork!
BOOK A DEMO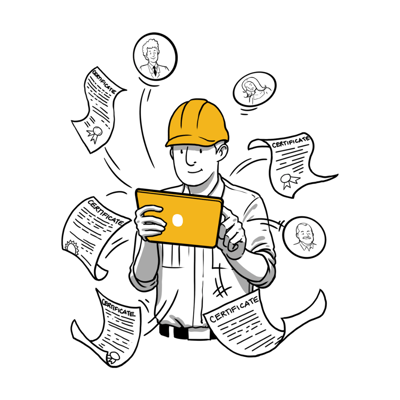 Create and manage online Electrical Bonding Notice forms
We've made it as easy as possible to create electrical bonding notice forms. You can now easily create, fill out, sign and send your gas safety records in just a few seconds! Powered Now Gas Certificate App will make your life easier. Join thousands of gas and heating engineers saving hours per week with Powered Now. Say goodbye to your paper forms and certificate pads 👋
Do you deal with Oil Certificates too?
Check out the Oil Certificates available in our app. Let us know if there are any other forms or certificates you need.
Oil Warning and Advice Notice
Domestic Oil Storage/Spillage Risk Assessment
Oil Installation Completion Report
Oil Firing, Servicing and Commissioning Report
Frequently Asked Questions about Powered Now's Digital Gas Safety Certificates
Do your certificates have automated reminders?
Currently on our Gas Safety Record (CP12), Gas Breakdown/Service Record, Leisure Industry Landlord's Gas Safety Certificate (CP2) and Electrical Installation Condition Report have automated reminders but all forms should have reminders by the end of this year.
How many certificates can I make?
Unlimited! That's right, with Powered Now you can make an unlimited amount of forms and certificates without any extra charge.
Can I create forms & certificates with Powered Now?
Absolutely! You can create and customise your certificates easily.
Powered Now Forms and Certificates allows trade companies to produce critical documentation quickly and easily.
How much does digital certificate software costs?
Powered Now digital certificate software pricing depends on the plan you choose. Check out our pricing page to find out mo
More industry-standard certificates will be added in soon!
Is there another form or certificate you need? Let us know
Powered Now Gas Certificate App will make your life easier.
One tool, everything in one place.
"It's so brilliant to be able to present customers with digital forms and certificates straight away. This has been particularly useful when carrying out gas checks on properties with absent landlords or doing gas safety surveys on properties on behalf of estate agents and solicitors. Within minutes of me finishing the check the landlord or solicitor can have a safety certificate in their hands. As a result they're more likely to pay the bill – and give me repeat business."
"If our customers misplace their reports or their certificates, we can get them replacement copies with the push of a button. Having everything in one place helps us be more responsive to customer requests and queries."
"Easy to use and has changed my whole thinking of running my business and with certificates as well it's just an all round brilliant app."